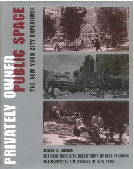 This is one of four buildings developed by the Kaufman organization that provide public spaces recognizable for their whimsical artwork and voluntarily furnished functional amenities. For this building, Melvyn Kaufman described his goals as wanting "to make the building disappear. . . . The scale of any large office building is impossible for a human being to relate to. Our plaza is inviting, exciting, warm, and friendly. It makes people forget they're at an office building."
Here, it is the arcade that makes the largest splash, featuring an aquatic theme that may be inspired by the Water Street address and aspiring to something different and grander than any other "as-of-right" arcade in the city. To begin with, it is more like a covered plaza than a narrow corridor, more designed for stationary rather than circulation usage. A moat filled with a shallow layer of water cleaves much of the space. Footbridges cross from the southeast side of Water Street between Old Slip and Gouverneur Lane and from the plaza abutting Gouverneur Lane. In past years, a sculpture, entitled Herring-like Fishes Swimming Upstream (1985), by a sculptor named Pamela Waters, presented tiny, angled, metal black-eyed "fishes," presumably herring-like and swimming upstream, in the moat. The fish appear to have completed their journey and were not present at a recent site visit. An old candy store façade and soda pop machine add to the amusement.
The arcade space next to Old Slip features more art. In front is Rejected Skin (1969), by William Tarr. Two rectangular blocks of crushed metal, made from aluminum panels rejected for use in the construction of 77 Water Street as well as from the red body of an ambulance, lie atop each other on a white pedestal, above which hangs another metal cube suspended in air by a single thread. At back is George Adamy's Month of June, five plexiglass disks in throat lozenge shades of pink, orange, and yellow, standing upright on horizontal white circular pads. Users seated here appear as travelers in H.G. Wells' The Time Machine.
The rectangular plaza along Gouverneur Lane, called Bennett Park, is very usable, with plenty of seating, trees, and still more artwork. Helix (1969), by Rudolph de Harak, whose work appears at another Kaufman-developed public space, at 200 Water Street, took 120 one-inch-thick stainless steel strips and twisted them together in an upward spiral, presumably in a helix rotation. A water sculpture, Cityscape Fountains (1969), by Victor Scallo, showcases metal boxes and fountains in the only uncovered part of the moat.
Plazas and arcades produced under the "as-of-right" provisions of the 1961 Zoning Resolution are not required to provide anything more than a surface plane, but Kaufman-constructed spaces typically rise above the "letter of the law." Other Kaufman-developed "as-of-right" spaces and their higher aspirations are on view at the previously mentioned 200 Water Street and at 747 Third Avenue. Another Kaufman public space, an urban plaza at 767 Third Avenue, gamely satisfies the higher design standards governing urban plazas. The "letter of the law" approach for "as-of-right" plazas and arcades is visible throughout the city. From here, it is conveniently on display across Gouverneur Lane at 95 Wall Street.