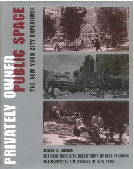 Although the building has chosen, unsurprisingly, to use Wall Street for its address and primary entrance, its 360-degree, full-perimeter arcade provides easy, protected passage to the highly usable through-block urban plaza, connecting Water and Pearl Streets, at its rear. The urban plaza is a large, rectangular space, fashioned primarily of red brick, that slowly negotiates the grade change from Water Street up to Pearl Street. With their relative maturity, generous canopy, and open understory, the numerous trees create one of the most naturalistic ambiances of the downtown public spaces. The area nearest Water Street has four planters, made of brick bases and granite slab ledge tops, each with a single tree and a ground cover of colorful annuals. The combination of brick and granite is an adept design choice, making it appear that the planter emerges holistically from the sweeping brick surface of the plaza while providing users with the smoother granite ledge for sitting. Unfortunately, that sittable ledge is marred by narrow, bisecting metal strips designed to prevent users from lying down. It also means that any user must look carefully before sitting lest he or she land on one of the metal strips.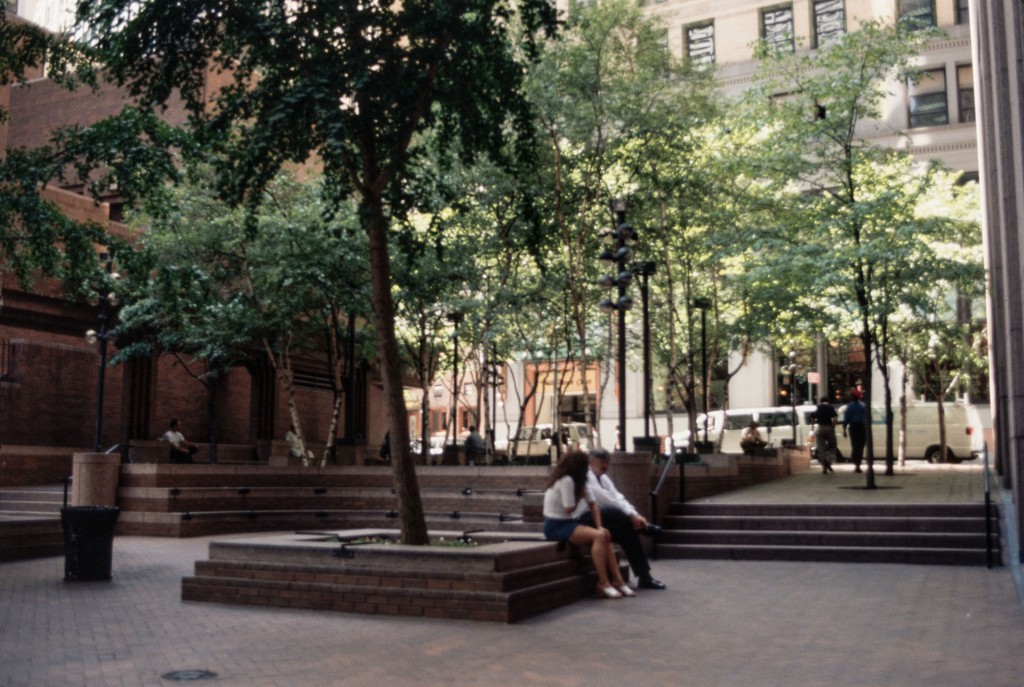 Water walls and pools line the southwest edge of the urban plaza. Although they seem too detached from the rest of the space, they have the consequent virtue of creating something of a refuge for those seeking privacy. The detachment and subsequent privacy are enhanced by a substantial and curious brick structure, looking like one side of a colonnade, that tracks the western side of the space from Water to Pearl Street and provides visual definition to the access ramp for the physically disabled.
The remaining two-thirds of plaza is largely covered by a planted area filled with birch trees, whose tops are sprinkled from time to time with sunlight. The planted area is surrounded on all sides by the two-toned sittable ledges, including a semicircular cutout in the middle supplying three levels of ledges on which to sit and stare back at Water Street. When provided, the 16 movable chairs leaven the locational rigidity of ledges and allow users to customize their social arrangements.
As for the arcade, it is one of several that more or less fully encircle the bases of their host towers. The arcades at Goldman Sachs and 17 State Street are other examples. Non-Bonused Public Open Space is indivisibly provided as part of the urban plaza and arcade.