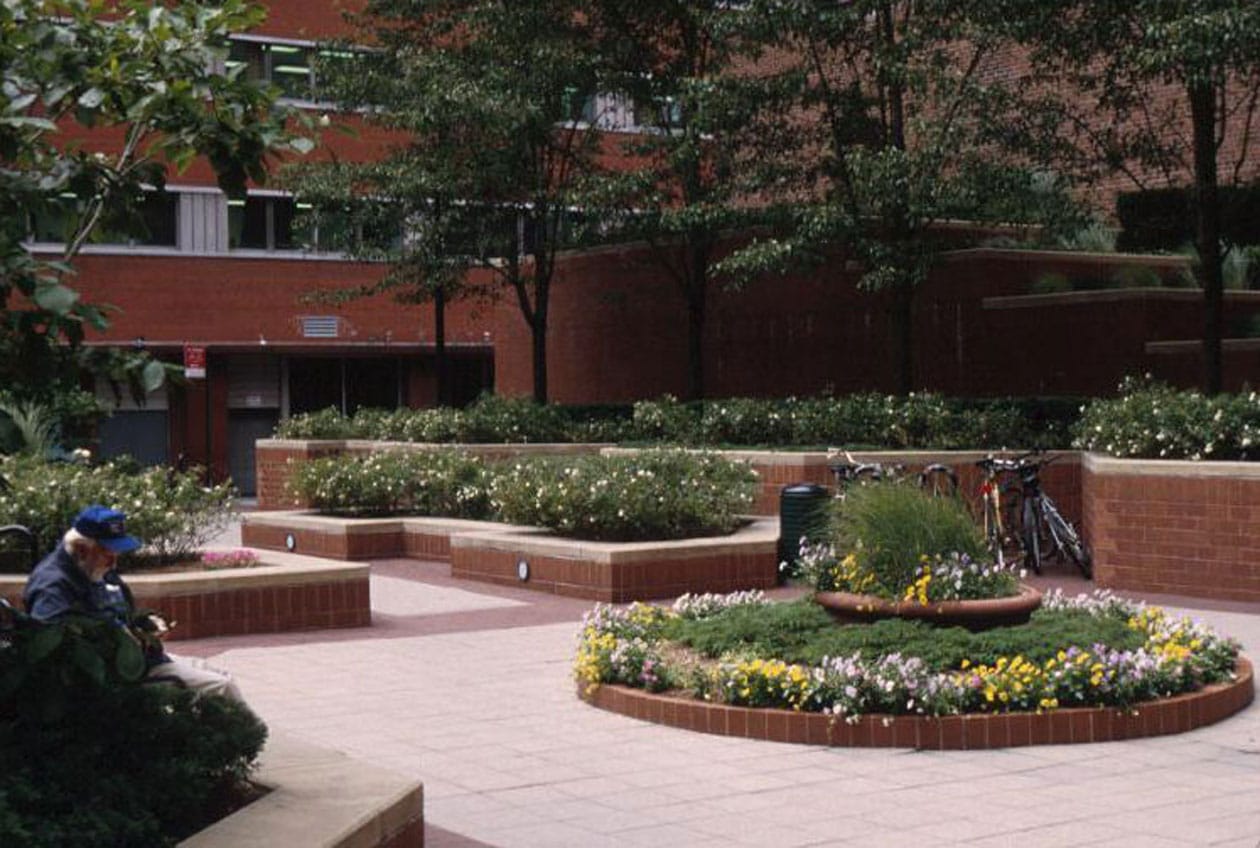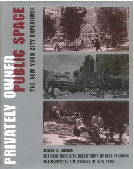 When the City Planning Commission introduced new zoning rules for plazas at residential buildings in 1977 that made southern exposures the location of first priority, it could have been thinking presciently about the development of this zoning lot. The lot runs through-block between Duane and Thomas Streets, west of Broadway, and, under the original 1961 zoning plaza standards, a plaza could have been situated at the northern front on Thomas Street. In that case, much of the space would have been in the shade, with usage seriously diminished. Instead, while the Thomas Street side has a strip of visual residual space, the primary space of this residential plaza luxuriates in sunlight for much of the day along Duane Street.
Indeed, if there is such a thing as too much sun, this space has it. With its abundant brick surfaces both absorbing and reflecting the sun's rays, liquid refreshment and sunglasses become a necessity during cloudless summer days. The plentiful ledge seating and fixed metal chairs certainly accommodate neighborhood users of the space, although it would be even better if it were possible to move seating to the few spots where shade is available. While the landscaping arrayed on cascading terraces at back is pleasant to look at, it would be enjoyed even more were it liberally sprinkled throughout.
As downtown Manhattan's only residential plaza, the space naturally exudes a different character than spaces at office towers. Its design unabashedly embraces the virtues of intimacy and smallness, yet never turns its back on the street or its host building. The plaza edge along Duane Street is skillfully rendered, partly shielded by fixed planters and partly open for easy entrance and exit. Although some plazas are better served by isolating much or all of themselves from the surrounding area, this one correctly recognizes the salutary aspects of permeability at this location. Duane Street offers interesting views, especially of a fire station directly across the street with its colorful trucks and firefighters. A food shop is ready to supply sandwiches for the lunchtime crowd.
The glass-canopied entrance pathway to the tower's front door is off to the side, nearer Broadway, but it never shuns the plaza, providing an opening near the lobby door frequently used by tower residents as they head west. Residents and outside members of the public are thus in regular contact, at least in passing. Put simply, this is one of the best examples of a neighborhood space in downtown Manhattan.