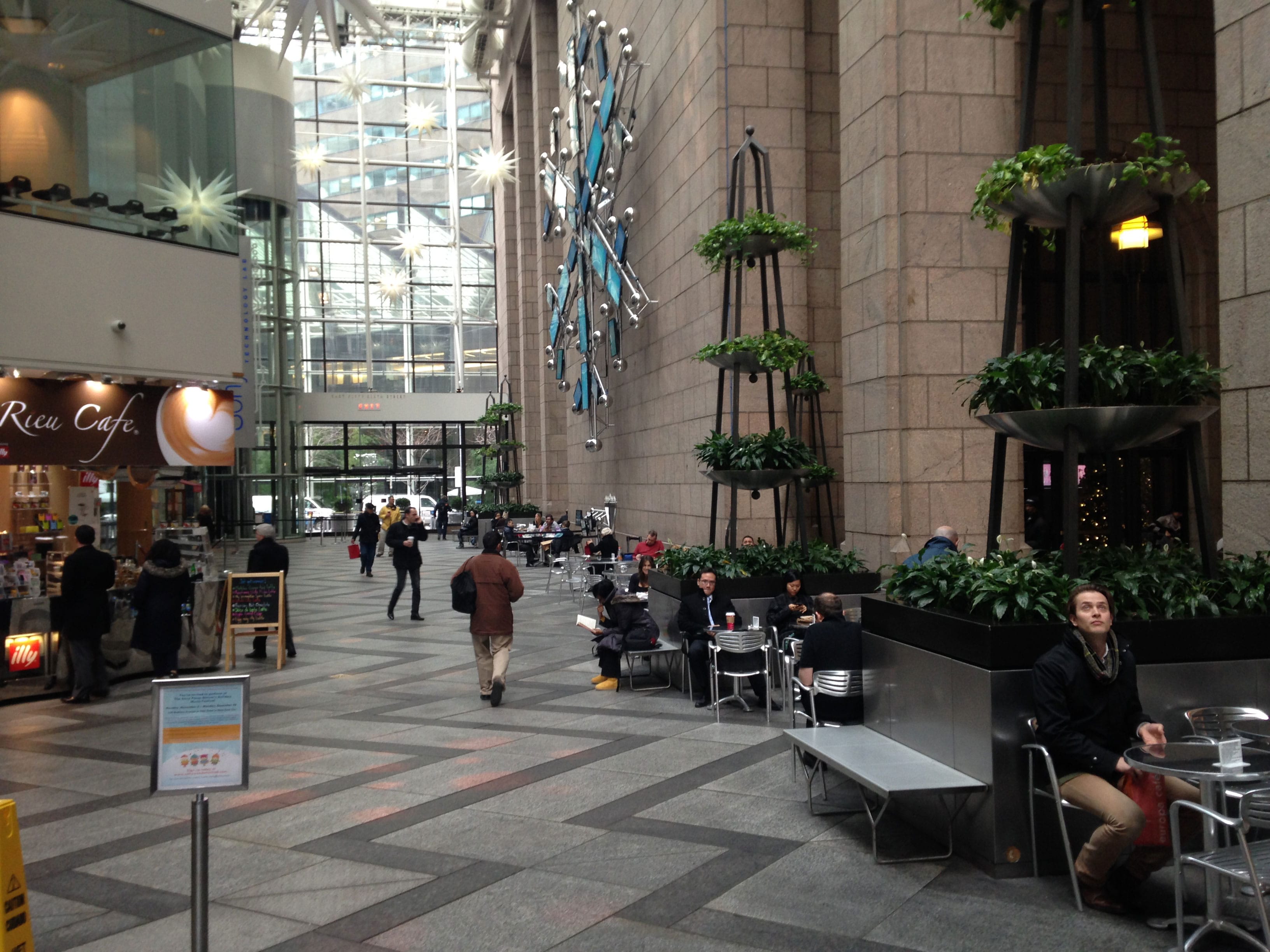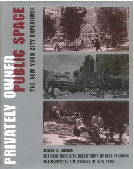 When the AT&T Building, designed by Philip Johnson and John Burgee, first enrolled in Manhattan's skyline in 1983, most of the attention focused on its split-pediment Chippendale top and its postmodern iconic meaning. Roughly ten years later, however, when ownership of the building shifted from AT&T to the Sony Corporation, the focus shifted downward. That is because in 1992 Sony applied to the City Planning Commission for permission to pack Sony retail store space into most of the 60-foot-tall open-air arcade encircling the building on the west side of Madison Avenue and on East 55th and 56th Streets. The proposal bluntly raised the question when, if ever, privatization of public space should be formally allowed.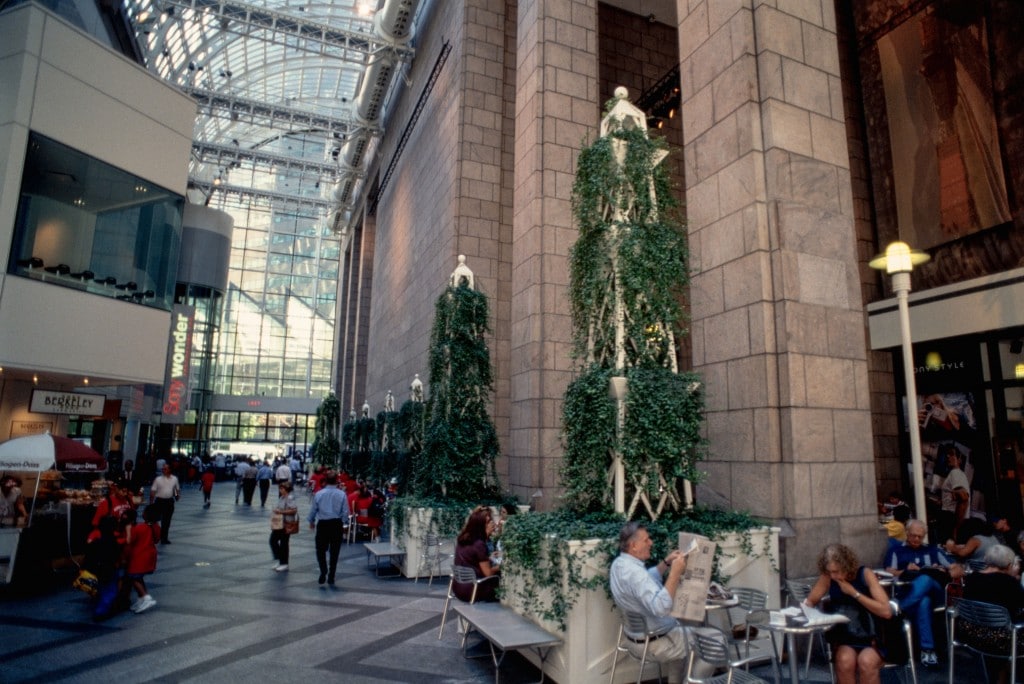 Specifically, Sony proposed to eliminate 10,560 square feet of arcade, reducing it from 14,102 to 3,542 square feet, and to replace it with 6,050 square feet of indoor retail space, much of it along the Madison Avenue frontage. Were this all to the proposal, the answer would be easy, since Sony not only would be decreasing public space but would also be increasing private floor area. What made this a matter for legitimate public debate was Sony's sweetener: its offer to enlarge its covered pedestrian space, located at the rear of the building and connecting East 55th and 56th Streets, from 5,625 square feet to 9,731 square feet and to render it climate controlled. Sony was offering an additional 4,106 square feet of covered pedestrian space and a general enhancement of its qualities in exchange for a reduction of 10,560 square feet of "as-of-right" arcade. Sony also proposed to eliminate 1,324 square feet of retail space fronting the covered pedestrian space, and to replace the AT&T Infoquest Center with its own exhibit center, called SonyWonder Technology Lab, in the annex.
The zoning arithmetic worked out as follows. Reflecting the judgment that, square foot for square foot, a covered pedestrian space is more valuable to the public and more expensive to construct than an arcade, the Zoning Resolution generally authorized a substantially greater bonus per square foot of covered pedestrian space. In the Sony case, at a rate of 11 square feet of bonus floor area for every square foot of covered pedestrian space, the additional covered pedestrian space would generate a bonus of 45,166 square feet. At a rate of three square feet of bonus floor area for every square foot of arcade, the lost 10,560 square feet of arcade would reduce the building's zoning floor area entitlement by 31,680 square feet. Thus, even after Sony would have constructed 6,050 square feet of new retail space in the old arcade space, that would still leave it with an unused entitlement of more than 7,000 square feet of building. And that would be before counting the 1,324 square foot reduction of retail space in the covered pedestrian space. In short, in the arcane world of zoning bonuses for privately owned public spaces, it could be argued, the public would emerge more than whole, with less, but more valuable, public space. The City agreed with this reasoning and approved Sony's application in 1992, concluding that the public benefit associated with the changes exceeded the public benefit associated with the existing configuration.
Today's covered pedestrian space, an impressive, glass-covered, three-story, through-block corridor may be entered from East 55th or 56th Streets under the remaining portion of outdoor arcade left over from the original design, or through the 80-foot-high granite entry arch and intensely vertical private lobby of the Sony building from Madison Avenue. Enclosed above by a half-barrel vaulted glass ceiling supported by white metal lattice and transverse white industrial beams, and at both ends by glass, the space is light and airy. Indeed, in physical form, it comes the closest of any through-block privately owned public space in the city toward evoking the nineteenth-century European arcade, with Connecticut granite for the patterned floor and columns, even if the half vault and squeezed corridor evoke half an arcade, and recent intrusions, including a large frame with light bulbs hanging from the ceiling and bump-out windows from the sides, clutter the air. The space's overall transparency and axis create a convincing visual, as well as functional, engagement with 590 Madison Avenue's glass-enclosed through block arcade and covered pedestrian space to the north, forging two blocks of protected mid-block passage as well as access through Trump Tower to Fifth Avenue.
Fueled partly by the SonyWonder Technology Lab, partly by food and retail offerings, and partly by its highly functional amenities for passive activities, the space receives heavy use. Groups of schoolchildren noisily queue up at and near the Sony exhibit located in an annex at the northern end, alternately amused and perplexed by a mechanical barker, equipped with live actor's voice, that interacts conversationally. Numerous silver metal movable tables and chairs, the same type as those used at 590 Madison and part of Trump, are collected principally in the two anterooms located off both ends of the through block passage. Here, office workers, shoppers, tourists, and other individuals avoid the commotion of the linear corridor as they enjoy typical public space activities of eating, reading, talking, and resting. Additional chairs and tables line the corridor, and the space has abjured the double-loaded retail layout of a shopping mall for most of its length. A destination restaurant joins convenience retail on the western side, and users with long memories and deep pockets might recall the Quilted Giraffe, one of the city's most famous and expensive restaurants. Public restrooms are available at the SonyWonder annex.
As for the lost arcade spaces, it would be a mistake to romanticize them. During much of the year, they were cold, dark, and windy. They were most usable during the dog days of summer, when their high vaulted ceilings and heavy granite arches and columns psychologically, if not physically, fostered coolness, much the way the dark, mysterious interiors of cathedrals have done for centuries. Remaining arcade space still lines East 55th and 56th Street sides of the building, retaining the intriguing portholes visibly punched above into the wall.