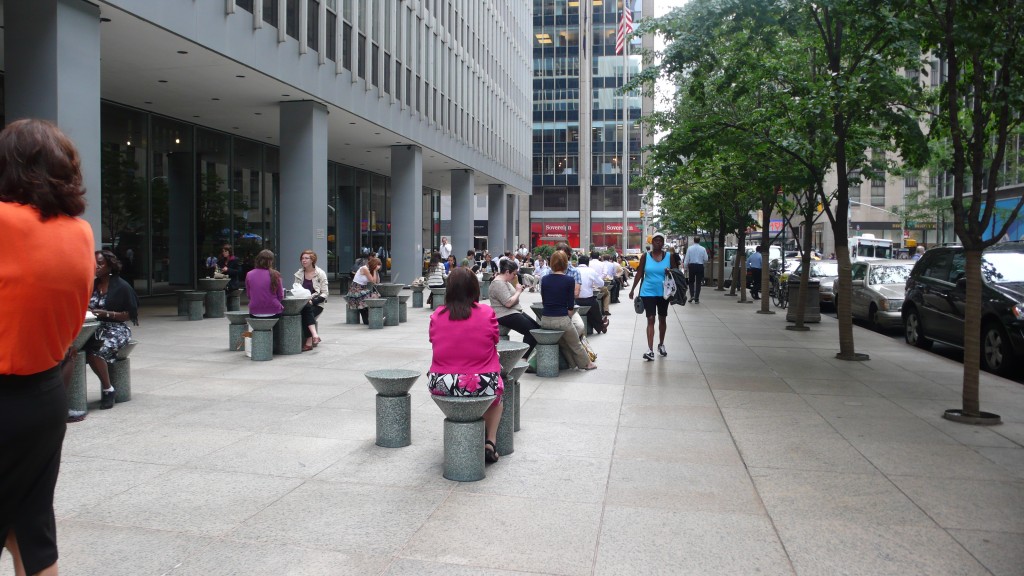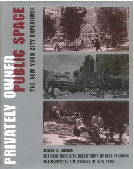 Public spaces at PaineWebber reflect lessons learned from the indiscriminate provision of huge setback plazas on the west side of Sixth Avenue during the late 1960s and early 1970s. Under the original provisions of the 1961 Zoning Resolution, the PaineWebber building would have been able to construct "as-of-right" a 24,000-square-foot plaza on Sixth Avenue that would have generated almost a quarter-million square feet of bonus floor area, like the plazas in front of 1251 Sixth Avenue, McGraw-Hill, and 1211 Sixth Avenue to the south. What may have worked on an individual lot, however, became problematic when replicated in series. Nurtured by building street wall continuity, retail frontage, bounded public sidewalks, and density of pedestrian traffic, the avenue's urban vitality was disturbed when the three plazas appeared next to one another. For some, this was the end of Sixth Avenue's aspiration to great street status. Zoning amendments in 1975 and 1981 effectively prohibited such "as-of-right" plazas along Sixth Avenue by inaugurating new design standards, including requirements for amenities, and a City Planning Commission Chairperson's review process known as "certification." The day of massive plazas fronting office towers on Sixth Avenue was over, and a new dawn of urban plazas arrived.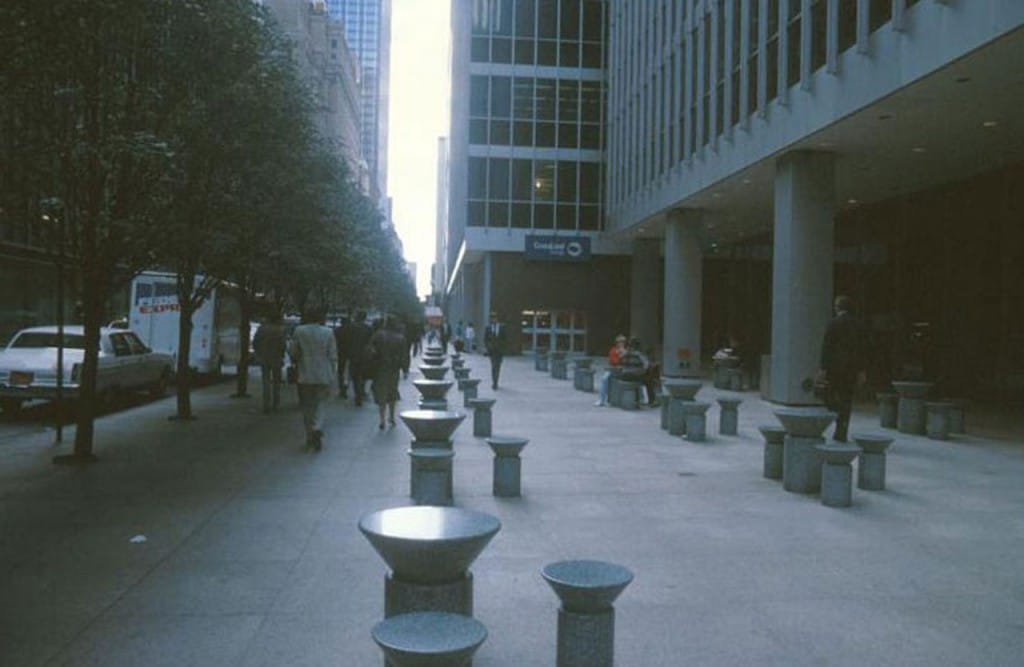 The PaineWebber urban plaza is a fine example of the new approach. To begin with, the space is not even located in front of the building, which is barely set back from the west side of Sixth Avenue. Instead, the building's south and north sides extending west from Sixth Avenue along West 51st and 52nd Streets are recessed to accommodate mirror-image rectangular plaza areas totaling slightly less than 10,000 square feet. Sculptor Scott Burton created two works for these areas, conveniently entitled Urban Plaza South and Urban Plaza North (1985-86). In the south plaza area, he installed three rows of fixed granite tables surrounded by three granite stools each that sprawl under the edge of the adjacent arcade. In form and layout, they suggest an archaeological find, as if some ancient religious order rather than public art virtuoso had dictated their design and placement. Two large triangular granite planters with bushes and built-in benches interpose a transitional zone between Sixth Avenue and the stone seats and tables. In the north plaza area, a reverse of the layout is attempted, with a series of angular polished granite benches closer to Sixth Avenue and triangular planters located at back.
An outdoor, partially skylit through block galleria connects West 51st and 52nd Streets mid-block between Sixth and Seventh Avenues at the back of the building. With its sculptures, wall murals of geometric patterns, water pool, and polished granite ledge seating and benches, the space serves destination, as well as circulation, ends, something expressly contemplated by the zoning standards for through block gallerias, in contrast to the solitary circulation focus of through block connections. The amusing bronze sculptures created by Barry Flanagan at each end are entitled Hare on Bell (1983) and Young Elephant (1984), and an elegant glass-and-gold-colored structure houses escalators that lead to the concourse level of the Rockefeller Center complex and the subway.
As the inaugural link in the City's longest, most successful mid-block pedestrian network, a six-block chain linking West 51st to 57th Streets, the space makes its mark. People love secret passageways, those alternative ways to get from point A to point B often discovered by happenstance. From a design perspective, this type of mid-block passageway finds its conceptual origins in the elaborate shopping arcades of eighteenth and nineteenth century European cities. Covered shopping arcades appeared in Paris at the end of the eighteenth century as alternatives to the chaotic and, before Baron Haussmann's mid-nineteenth century interventions, cramped Parisian streets. London introduced its own version of the shopping arcade in the nineteenth century, culminating in a number of graceful, soaring confections of glass, iron, and terra-cotta.
As a matter of zoning policy, the City's ambition would be less extravagant. Simple mid-block shortcuts would be bonused or required, especially in the Special Midtown District's designated corridor between Sixth and Seventh Avenues, as a means of easing the pedestrian's burden along the lengthy avenue-to-avenue span and as a means of reducing sidewalk congestion. Knowing the difficulty of creating financially sustainable interior retail spaces, retail frontage would not necessarily be mandated, especially when no zoning bonus was granted. Fully indoor spaces would not necessarily be preferred when covered, outdoor corridors would perform adequately.
This space links West 51st Street to the through block galleria at Flatotel connecting West 52nd and 53rd Streets, the through block galleria at 1325 Avenue of the Americas between West 53rd and 54th Streets, the through block connection at Rihga Royal Hotel between West 54th and 55th Streets, the through block connection at CitySpire between West 55th and 56th Streets, and, principally but not exclusively, the through block connection at Metropolitan Tower. As discussed in the profile of the through block connection at Metropolitan Tower, there are two other choices for reaching West 57th Street from West 56th Street without setting foot on or straying outside the boundaries of Sixth or Seventh Avenues, including the through block arcade at Le Parker Meridian Hotel and the through block connection at Carnegie Hall Tower.
There are five other mid-block pedestrian networks fabricated from privately owned public spaces in the city. A four-block chain connects West 44th Street to 48th Streets and is described in the profile for Millennium Broadway. The others are each two blocks long, connecting East 48th to 50th Streets between Madison and Fifth Avenue as described in the profile of Tower 49, connecting East 51st and 53rd Streets between Madison and Fifth Avenues as described in the profile of Olympic Tower, connecting East 55th to 57th Streets between Madison and Fifth Avenues as described in the profile of Sony, and connecting West 44th to 46th between Broadway and Eighth Avenues as described in the profile of One Astor Place.
The City has also encouraged the creation of subterranean- and above-street-level pedestrian networks. For example, a number of office buildings, for example, Paramount Plaza, have received floor area bonuses to provide street-level access and below-ground concourses linking to the subway system. Downtown efforts, such as the recently repealed Special Greenwich Street Development District south of the World Trade Center and its second-level pedestrian bridges, have met with mixed results, as described in the profile of One Bankers Trust Plaza.
The through block galleria here marks the physical dividing line between the PaineWebber building and the Equitable Center. Designed by different architects — Skidmore, Owings & Merrill designed PaineWebber, Edward Larrabee Barnes designed Equitable — and developed separately in two phases, the buildings together offer an incredible array of art in their indoor privately owned lobbies that are nonetheless voluntarily opened to public visitation. In the monumental lobby of the Equitable Center, for example, is Thomas Hart Benton's America Today (1930), a ten-panel Works Progress Administration tempera on linen that depicts American life and social conditions of the 1920s. A huge Roy Lichtenstein work, entitled Mural with Blue Brushstroke (1984-85), was commissioned for this space. The PaineWebber Gallery has its own rotating collection of compelling artworks. The sidewalk widening (pedestrian circulation space) along much of West 51st and 52nd Streets extending to Seventh Avenue completes the public space here.