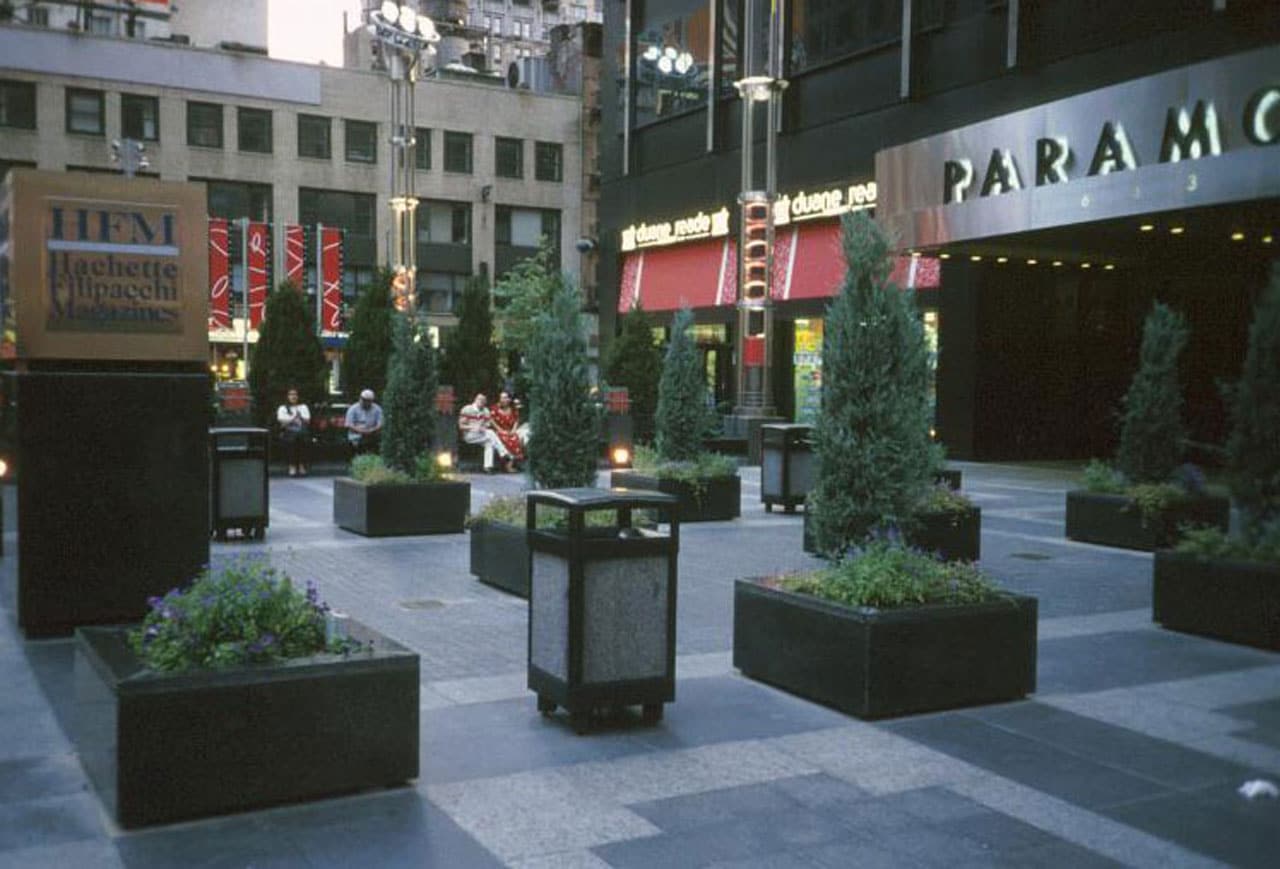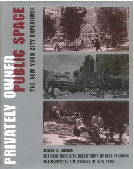 Successor owners to the original developer of this Broadway office tower have faced an inherently problematic site condition at their full blockfront special permit plaza on the west side of Broadway between West 50th and 51st Streets: two square holes punched into its north and south ends creating sunken spaces. Over the years, the square holes have dramatically dissipated the physical integrity of the surface plaza, reducing it to little more than interstitial space between and around the squares. Moreover, positioned one floor below the street and approachable only by stairs, these sunken spaces have never worked on their own terms. Neither offered a reason to stay, lacking functional seating and other public space amenities. Surrounding storefronts were either occupied by non-retail commercial uses or restaurants that went out of business, or were simply vacant, behind opaque black glass windows displaying "for rent" signs. Much of the northern sunken space was covered by an ornamental fountain rendered unapproachable by a cordon of white planters. Although the southern space at least offered a reason to pass through it, a subway entry, it lacked a reason to stop. The ornamental fountain here was no more appealing than in the northern space.
Sunken spaces have always presented difficulties and their pathology is not hard to discern. Compared with street-level spaces, sunken spaces require greater effort on the part of the public to reach them. They are frequently dark and cold, lacking sunlight more available at street level. Without the eyes and ears of pedestrians, they can be downright scary. Without usable amenities and supportive retail uses, they can be dead. Even the skating rink at Rockefeller Center, typologically a sunken space, might be less successful were it not covered with ice for skating during the winter or fully engaged for summertime use. The empirical record of sunken spaces in the city is not a happy one. Of the five outdoor privately owned public spaces with prominent sunken areas created since 1961, one has completely disappeared, at 1345 Sixth Avenue and another is about to disappear, at the General Motors Building at Trump International Plaza. The McGraw-Hill sunken plaza and the Citigroup Center open air concourse remain.
Over the past 10 years, the owner here has undertaken two alterations to address subsurface and surface conditions. It has removed the fountains and installed in the northern space a flying saucer sculpture, a bench and fixed seats, and a lift mechanism. Active retail uses and restaurants have been promised. The southern space will always have the advantage of subway access through an underground concourse, and the owner has left that space to its circulation mission. Befitting its Broadway location, the street-level plaza has been made more theatrical, boasting banners, high-tech lights, and a silver identification marquee. Fixed benches flank the central entryway between the two sunken spaces, and small planters peppering the middle are the latest strategy for filling in the interstices. More plaza space extends into the recessed areas of the building on West 50th and 51st Streets.
Another public space is a special permit arcade running through-block under the building between Broadway and Eighth Avenue connecting West 50th and 51st Streets. It should not be confused with the through-block dropoff driveway immediately west. Pedestrian and automobile access at this location is important to service the two theaters, encouraged by the 1967 Special Theatre District zoning, occupying lower levels of the tower.