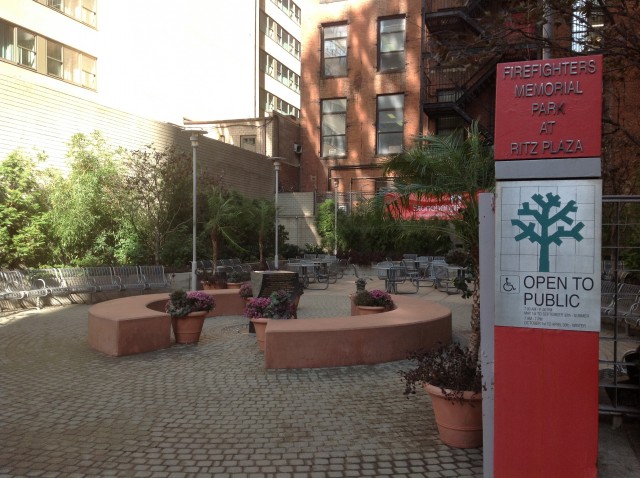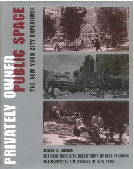 Like other publicly and privately owned public spaces in the city, this urban plaza to the west of its host residential tower on the north side of West 48th Street between Broadway and Eighth Avenue has encountered thorny issues regarding its use by certain members of the public. At a recent site visit, security personnel employed by the Times Square Business Improvement District stated that the plaza has experienced problems with homeless users, who have been asked to vacate the space from time to time.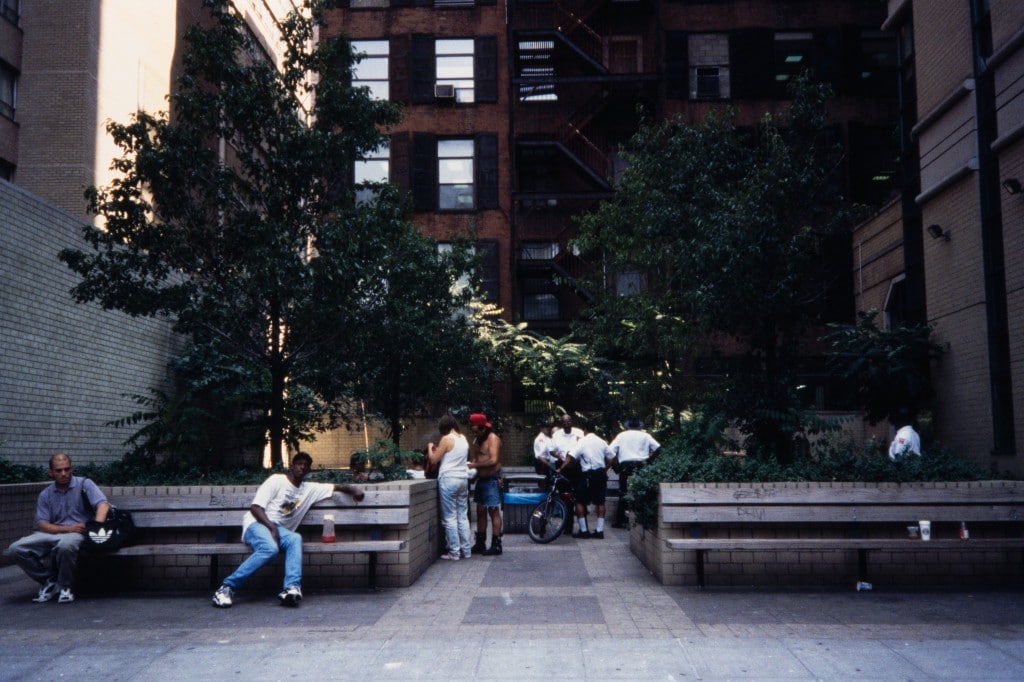 How should privately owned public spaces be used by members of the public? In thinking about this question, it is important to recognize that use by some individuals may deter use by others. Not only is this inevitable, but it may even be desirable. For example, some people like crowds, others treasure solitude. Some crave excitement, others seek quiet. When spaces develop a personality, they axiomatically stop being all things to all people and, with more than 500 public spaces in the city, differentiation is to be expected and accepted.
Still, if everyone need not feel equally at home at every public space at all times, no one should feel effectively uninvited at all times. In general, a bicycle messenger, lawyer, student, traffic officer, caregiver, construction worker, taxi driver, or homeless person should be equally entitled to use a public space as long as his or her conduct does not unreasonably impinge upon the ability of others to use the space. The key concepts are "conduct" and "unreasonably." With regard to conduct, it is vitally important to distinguish between conduct and identity. The mere identity of a person as homeless, no more than the identity of a person as a construction worker or lawyer, should never disqualify that person from using the space. On the other hand, if that person's conduct, in the sense of actions taken by that person, becomes such a nuisance to others that they are fully prevented from enjoying the space, then that person may legitimately be asked to cease such conduct or leave the space. Stating the rule in the abstract is, of course, far easier than drawing lines in the field. One individual's definition of reasonable conduct is another person's idea of anarchy, but the effort to make reasoned distinctions is essential in societies whose ideals include respect for pluralism and difference.
The owner of The Ritz has taken a customary approach to this issue, encouraging greater use of the space during day and evening hours by planning to install open air cafés and closing the space at night. At the time of this writing, the space is planned for a renovation as part of its nighttime closing arrangements. Thus, the four brick planters and wooden benches may become amenities of the past, and the user profile may change.