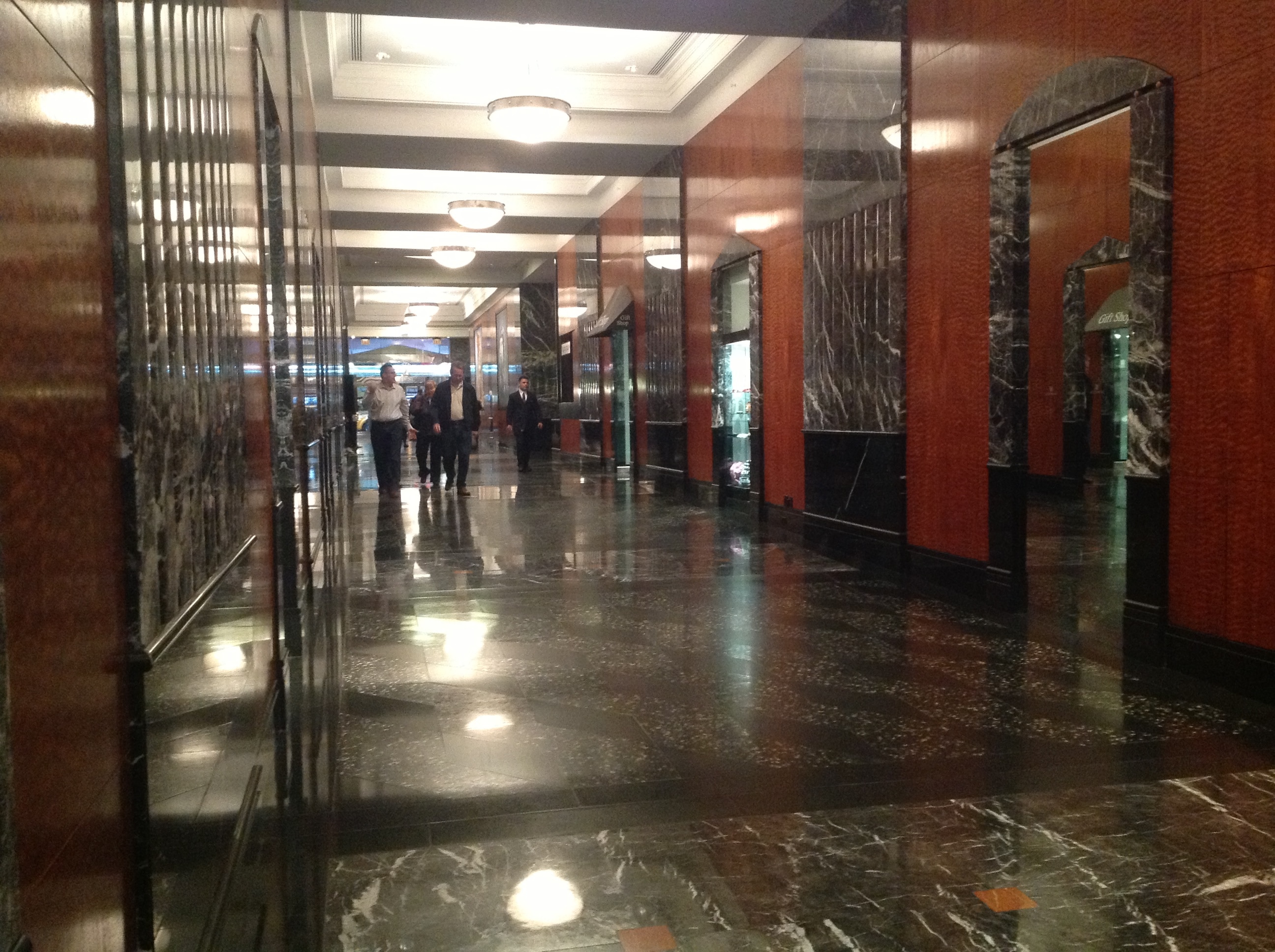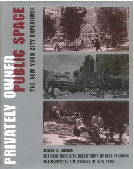 This indoor through block connection is the first, and by far the most opulent, passageway in a four-block network of privately owned public spaces linking West 44th to 48th Streets between Sixth Avenue and Broadway or Seventh Avenue. Integrating itself thoroughly with the hotel use, the space accrues the advantages and ambiguities of serving private, as well as public, interests. The entrance to the hotel and public space on West 44th Street is richly trimmed, with flanking silver torch sconces and a theatrically lit canopy. Inside, the through-block interior is effectively a double-loaded corridor for hotel uses, starting with a small waiting area to the west, a theater to the east, concierge and hotel check-in desk further north, elevators and stairs mid-block, and a gift shop closer to West 45th Street. The corridor wall displays large oil paintings by Carlo Maria Mariani, called Day-Night, depicting a man awake and a woman asleep. Wood panelling, polished marble and granite floors, and mirrored surfaces complete the message of luxury. In fact, the only elements that speak to public circulation, rather than hotel, uses are the silver clock dials and street identifications at both ends.
The positive side of this private-public merger is that there is no stinting on quality, no second-class treatment of public space. The public user enjoys the same physical environment accorded the hotel guest. The negative side is that the very identity of the space as public disappears. Like the western leg of the through block arcade at Le Parker Meridien Hotel, another hotel lobby-public space combination, it becomes difficult for even the public space expert to know that there is a public space here. When required public space entry plaques are missing, as they were at a recent site visit, then the space becomes fully privatized since members of the public cannot possibly know their rights to use this corridor.
The other three, more modest, spaces in this four-block network include Bertelsmann's through block connection from West 45th to 46th Streets, United States Trust's through block connection from West 46th to 47th Streets, and 1211 Sixth Avenue's through block arcade from West 47th to 48th Streets. The latter two spaces are substantially east of the first two spaces, enough to discourage some pedestrians from taking advantage of the full four-block passage. Although the network is momentarily halted north of West 48th Street, it is not for lack of zoning ambition. Enacted in 1982, the Special Midtown District zoning mapped a wide geographic corridor running from West 40th to West 57th Street, 100 feet west of Sixth Avenue and 100 feet east of Broadway or Seventh Avenue, that required or strongly encouraged, usually under so-called pedestrian circulation space standards, through block connections for new developments with frontages on two east-west streets.
Under that zoning, the City has come remarkably close to obtaining a 13-block-long passageway. There is an outdoor through-block space at the back of the McGraw-Hill building between West 48th and 49th Streets, but it is, legally speaking, not required to be open and accessible to the public. Between West 49th and 50th Streets is another outdoor through-block space, at the back of 1251 Sixth Avenue that, at the moment, is similarly not required to be open to the public, but will become so if the proposed office building at 745 Seventh Avenue is constructed. Although there is neither a privately owned public, nor a privately owned private, mid-block space connecting West 50th and 51st Streets, the rest of the way, from West 51st to 57th Streets, is secured with one or more privately owned public spaces for each leg of that journey. The starting space is the through block galleria at the PaineWebber building.