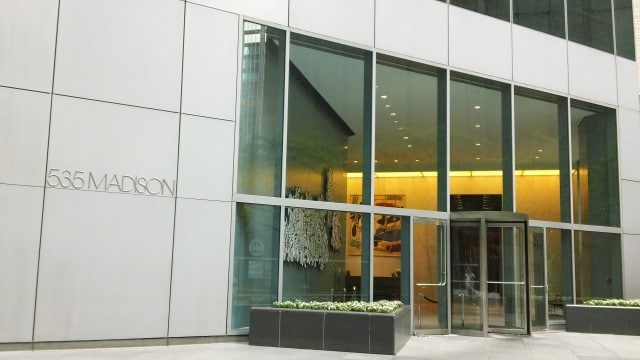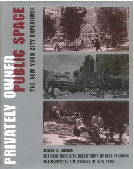 Tucked against the east side of the Warburg Dillon Read building, east of Madison Avenue on the north side of East 54th Street, this compact urban plaza is one of the best-designed outdoor spaces in midtown Manhattan. Whereas some spaces disconnect themselves from the public sidewalk, through elevation changes, perimeter planters, impenetrable landscaping, or imposing fences, this one comfortably blends in, flush and open along its frontage. Such permeability is not axiomatically superior in every location to a more cloistered, protected design, but it works beautifully here, casually inviting the passerby to sample its amalgam of natural and functional amenities. The space also maintains a strong relationship with its aluminum-clad host building, whose main entrance under the tall, triangular arcade carved out of the building's bottom corner is next to the plaza. Users are as likely to include resident office employees as visitors from the outside.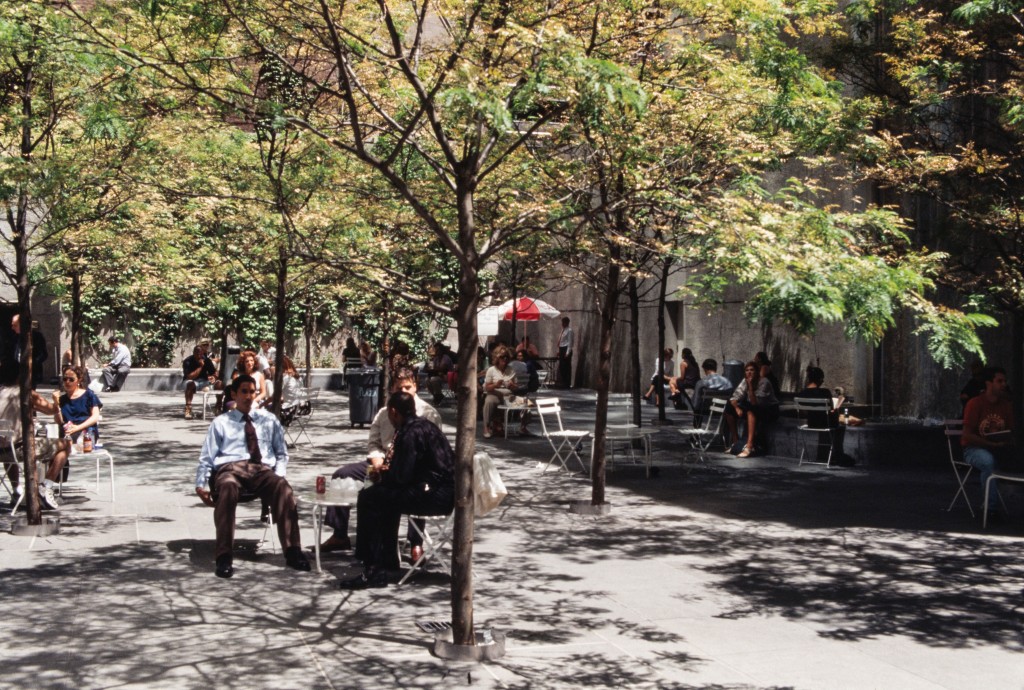 Fifteen trees grow directly out of the smooth granite floor. A slender waterfall drops down the eastern wall into a semicircular pool, generating soothing sound and cooling psychological effects. A northern wall of ivy is a green foreground for the view of buildings beyond. Although the densely built neighborhood reduces the amount of sunlight in the plaza, the tall enclosure on three of four sides appears to reduce swirling winds.
Movable tables and wire-mesh chairs dispersed beneath the trees are heavily used, especially around lunchtime, and users must act decisively to nab them when they become available. Ledge seating lines the eastern and northern walls, although the semicircle around the pool is frequently too wet for seating. At the northeast corner is a food kiosk serving light snacks. At times past, its staff has placed small vases with carnations on the tables, a small but revealing touch of public space stewardship. The Warburg Dillon Read urban plaza adopts many of the design conventions, naturalistic trees, movable tables and chairs, water, food service, clarity from the sidewalk, and compact proportions successfully employed at the venerated Paley Park, whose proximity two blocks southwest on East 53rd Street between Madison and Fifth Avenues makes a visit for comparison purposes easy. A discussion of Paley Park's virtues appears in the profile of the HarperCollins through block arcade.