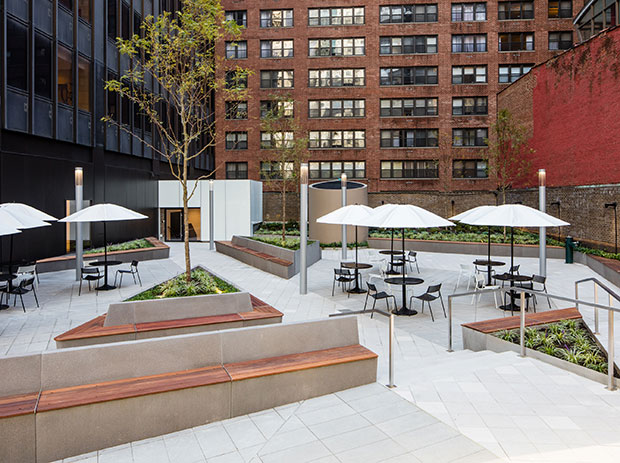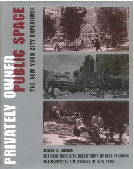 Years ago, this rectangular plaza on the south side of East 40th Street west of the full blockfront residential building on Third Avenue was a barren place, with paving in disrepair, eight of ten planters missing trees, crack vials and old clothes In the planter dirt, no seating, and a cylindrical vent-like structure with graffiti. Now, that vent-like structure is the only link to the past, and the plaza has become a pleasant, usable space.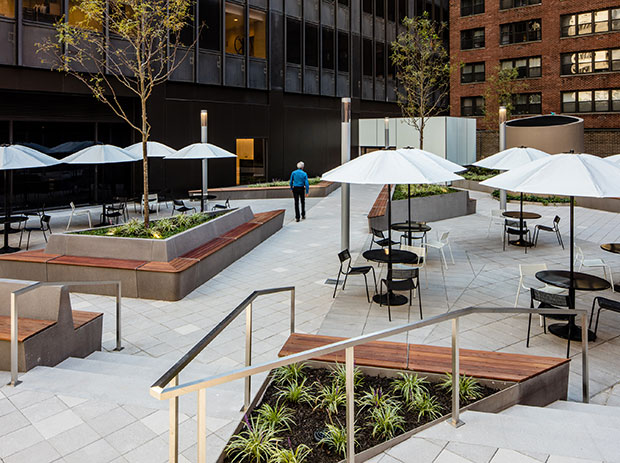 The building to the east and the 10-foot-high brick walls on western and southern sides generate a feeling of enclosure, as if this were a large urban living room. The furniture includes plentiful black café tables and chairs, available for public use without obligation even though the umbrellas on several tables carry the name of the adjacent food service. Planters are filled with flowers and six tall trees. The plaza surface has been repaired. Futuristic-looking stanchion lights provide evening illumination.
A hypertechnical reading of the plaza regulations from the 1961 Zoning Resolution could be mustered to proscribe the movable tables and chairs, since they are not inscribed in the Resolution's list of permitted obstructions, a list that expressly includes arbors and trellises, awning and canopies, railings, flagpoles, open terraces and porches, steps, ornamental fountains, statuary, and unenclosed balconies. The City has declined to interpret inflexibly this provision, in the belief that tables and chairs can, as here, render a plaza more usable for members of the public. The installation of a wall and gate along the sidewalk border presents another question under the Zoning Resolution, since it is not authorized as such. At a recent site visit, the gate was locked, although the space is required to be open 24 hours a day, seven days a week. No record of City approval has been found. The full blockfront arcade on the west side of Third Avenue provides protection from inclement weather.