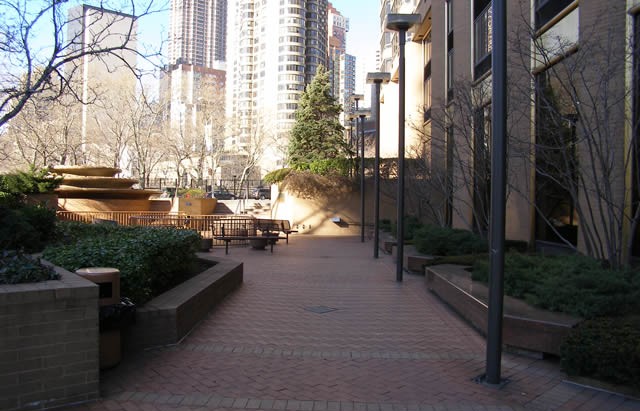 630 First Avenue
Manhattan Place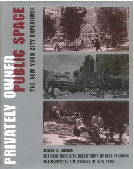 The best aspect of this residential plaza is its success at serving equally well the passing pedestrian and the committed user. The major portion of the space forms a triangle, whose right angle sits at the northeast corner of First Avenue and East 36th Street and whose hypotenuse is the building itself. Without ever entering the space, the pedestrian walking along the avenue is able to experience the visual, psychological, even actual coolness of the ornamental fountain located adjacent to the sidewalk. Unlike the more common plan at many city plazas, this layout features the fountain front and center rather than buried deep within. Water shoots up, then overflows downward from bowl to larger bowl to still larger bowl, redolent of beaux arts fountains. Physical access is available up two steps from the sidewalk side of the space. The pedestrian may prolong the moment of refreshment by sitting on the fixed bench built into the sidewalk side of a planter surrounding the fountain.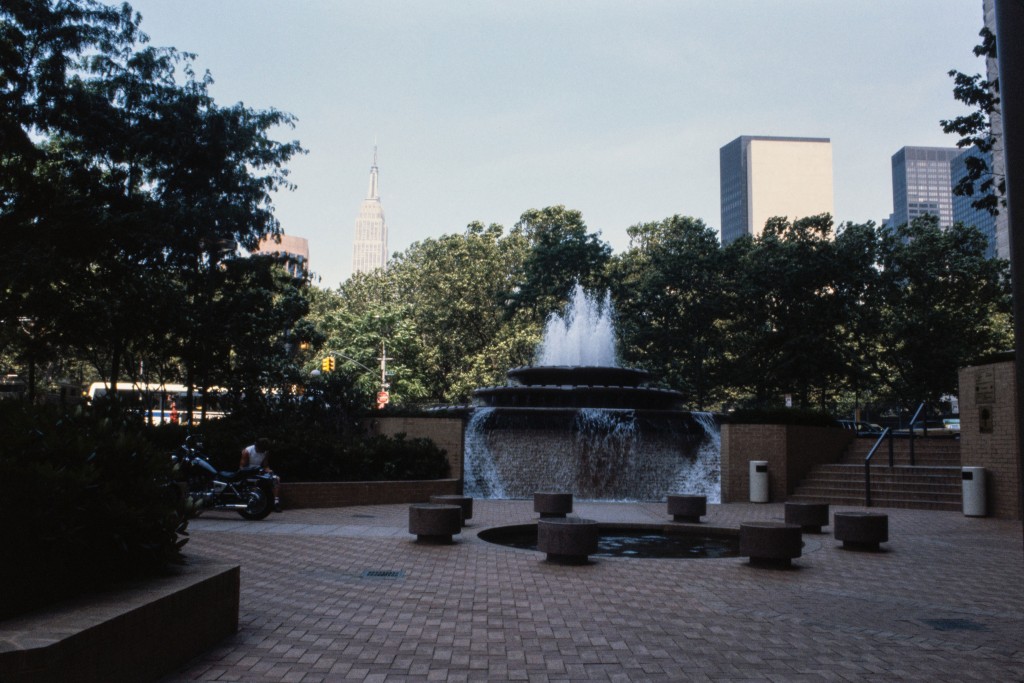 For those seeking to stay, the plaza presents a different face, down 10 steps past the fountain or entered at grade from East 36th Street. Formally disengaged from the avenue by the grade-level change and buffered by fountain to the west and planters to the south, the space still manages to elude the cramped, isolated feeling generated by many other below-grade spaces. It is relatively spacious, unobstructed by planters, and, most importantly, open to the horizon to the west. The presence of the wide swath of access roads leading to the Midtown Tunnel not only precludes buildings that would encroach on the spaciousness of sky, but allows for a sighting of the Empire State building.
Usable amenities are plentiful. Four polished granite benches and brick planter ledges supply many places to sit. A round reflecting pool is surrounded by eight cork-shaped polished granite seats. The interior of the fountain reveals a lower waterfall below the three upper bowls. Trees and plants generously fill their host planters, and the buff-colored paving brick softens the space and merges it with the façade of the building. The rest of the plaza also works well. A landing five steps above the northern portion of the avenue side fronts storefronts and a café. At a recent site visit, white café tables and chairs were set out on part of the landing, but no record of City approval for such use has been found. The East 37th Street plaza space is pleasantly landscaped with a row of trees and plantings.