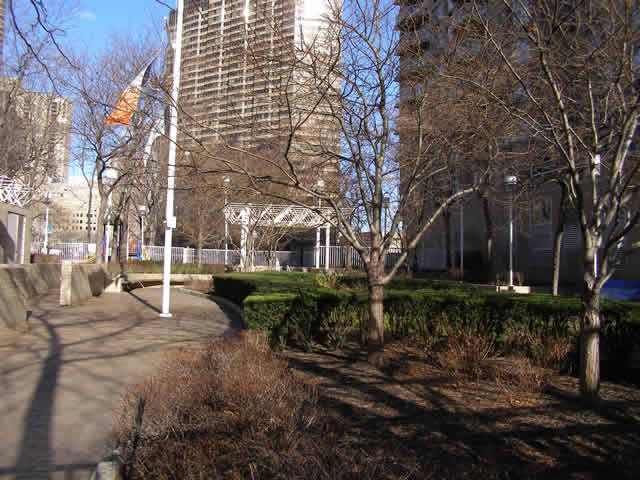 401 East 34th Street
Rivergate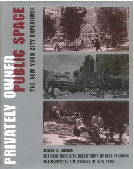 More than any other residential plaza in the city, this residential plaza successfully emulates many of the attributes of the time-honored urban neighborhood public park, providing both active recreational opportunities for neighborhood kids and passive recreational opportunities for neighborhood adults. The plaza takes up roughly the western third of the building's full-block parcel, bounded by the east side of First Avenue, by East 34th and 35th Streets, and by the Rivergate tower to the east. Entry points are found along First Avenue and East 34th Street. The entrance from East 34th Street is especially convincing, framing the entrant's view with a foreground of flowers, a mid-ground of lawn, and a background of basketball backboard and rim, all on axis.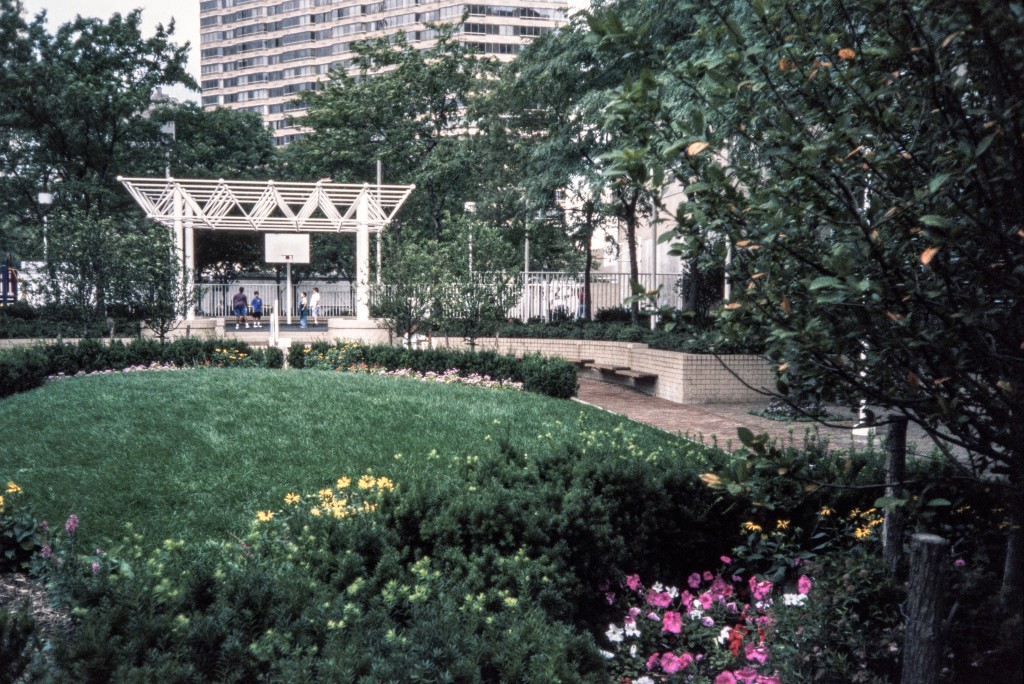 The plaza is oriented north-south rather than east-west, dividing itself into two functionally distinct zones. The larger southern zone is dedicated to passive recreation, featuring a landscaped rectangle with eased corners and indented side, close to an oval. In its middle is a lush greensward surrounded by small trees, shrubs, and colorful annuals. A brick track encircling the lawn is perfect for circuit walking and jogging, even though such activities might jar the passive recreational environment of this quiet zone. At north and south ends are wooden benches hung from curving brick planter walls, and additional freestanding benches are found steps up to the west, next to the drinking fountain and food kiosk.
To the north are a basketball half-court used by teenagers and adults and a children's rubber-paved playground with climbable play-structures, the remaining parts of a much larger effort to enable active recreation. In 1996, the City allowed the removal of several sports-based amenities, including an ice skating rink, a warmup and fitness area, and several chess tables. The ice skating rink was a good idea, designed to provide life to an outdoor space during the winter, a time when almost all of the City's outdoor privately owned public spaces lie dormant. Indeed, for a city in a northern climate, the provision of winter amenities at public spaces makes enormous sense. Unfortunately, the ice rink here may have attracted skaters, but failed as an ultimate magnet for onlookers. If the model was, in some sense, the rinks at Rockefeller Center and Central Park, the reality never quite measured up. A minor, but interesting example of a winter amenity at a plaza is the combination fog-steam fountain at One Penn Plaza.