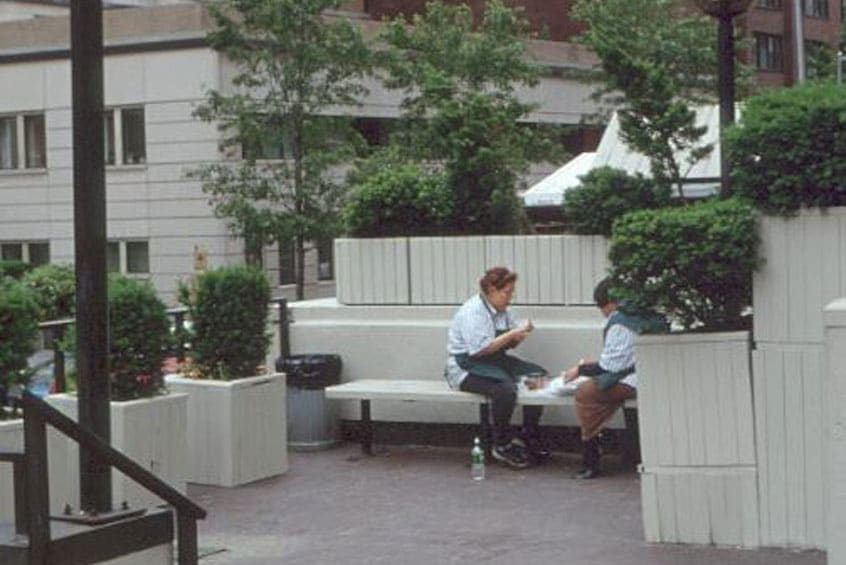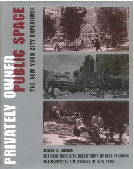 The story behind this privately owned public space at the southeast corner of Third Avenue and East 64th Street begins unhappily but ends better. When the host building and plaza were initially constructed, a small structure occupied by a restaurant was erected on a substantial portion of the required plaza along Third Avenue. When the City eventually learned about this encroachment, its Department of City Planning and Department of Buildings, together with its Board of Standards and Appeals (BSA), devised a plan that would allow the restaurant to remain in return for the provision of additional plaza elsewhere on the Third Avenue side and amenities otherwise not required for "as-of-right" plazas. The plan was memorialized in a BSA variance.
Where the plaza had previously included a small strip of sunken space several steps below the Third Avenue sidewalk, in front of retail stores, that was of negligible value, the new design would move the stores forward to the Third Avenue lot line, and construct elevated space above the stores otherwise prohibited by the "as-of-right" plaza's prohibition against space more than five feet above curb level. The variance required extensive landscaping and seating, as well as a television surveillance camera. The owner would be allowed to close the elevated space from midnight until 6:00 a.m. daily.
The resulting plaza is certainly superior to the strip plazas churned out by many developers during the 1960s and early 1970s. The elevated plaza may be entered up steps from East 64th Street, east of Third Avenue, or up a narrow stairwell from Third Avenue midway between East 63rd and 64th Streets squeezed between the restaurant and a garage driveway. At a recent site visit, this stairwell entrance was locked, with no record of City approval for this action. Inside the East 64th Street entrance is a small area on top of the stores, featuring three wooden-slat benches with backs, and planters. The main part of the space is several steps below to the east, behind the store and restaurant, almost too secluded from the street given security anxieties, especially in an elevated space. The tall, encircling, white wood planters filled with shrubbery and flowers oddly evoke the feeling of a residential condominium deck near the beach. More wooden-slat benches with and without backs provide seating. The remaining plaza space on East 64th Street is in front of the main entrance to the residential building and has several planters.